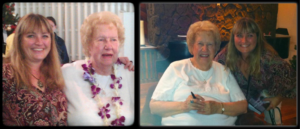 Q

uantum 

H

ealing 

H

ypn-osis

T

echnique is a technique that was developed by Dolores Cannon.  It is a process of going to the super-conscious mind and looking into a deeper level of understanding.  Not only do you clear past lives that no longer serve you, but you also will talk to that part of yourself, that is all knowing and all healing.  This is about a 4 to 5 hour process from start to finish.  There will be time taken to do an intake form and gather information for the regression.  Questions will be formed for the higher self to answer and assess.  Any problem areas mentally, emotionally and physically will be addressed as well before the regression so that as you enter into the regression I have everything you want and need to ask your higher self.  I then take you into a deep regression and move you through the levels of hypnosis to the super-conscious mind.  At this point the questions will be asked and answered and the healing work will begin.  Once that has been done then I will pull you out of the regression, and we will go over your session together and answer any questions you may have at that point.
All QHHT sessions are in person, no virtual sessions available for this technique.
Up to 5 Hr Session
Cost:  $600  ($200 deposit and remainder balance of $400 paid cash/square/zelle/paypal)  If paying balance with a credit/debit card there will be an additional $25 charge.)
**$200 non refundable deposit to book this session. With a minimum of 72 hour notice if you would like to reschedule your appointment to a different day. If you fail to give 72 hours or better notice you will loose your deposit and the session balance will be owed.
Click here to Schedule your appointment and pay your $200 deposit.  Balance of $400 due at time of your appointment.
10 ways to prepare for your QHHT session!!
Your session will usually last about 4 to 5 hours, so we will spend the day together. Your session is a private session and no one else is allowed to be there.

Come to your appointment with 2 lists of questions to ask your Higher Self, one life/personal questions and the other health/body questions .      (Please write on paper or print, please do not email it to me or have it on an iPad or device)

Also, please limit the questions to 12 (total, not each list) of your most important questions if possible.

If you meditate, do so in the morning or day of your appointment if you can. If you don't meditate then do something that keeps you in a calm mood, like taking a walk or listening to soothing music.

The night before and day of the session don't drink alcohol.  Also, try to eliminate or

limit

your coffee or caffeine the day of your session. (If caffeine causes you to be anxious or keeps you awake.)

Eat well, but light before you come in. I will have water available and feel free to bring your own snack. Remember we are usually together around 4 to 5 hours.

The hypnosis part of your session will be audio recorded by me, if you'd like to bring your own recording device, in addition, feel free to do so, this way you can take the recording home with you and re-listen as soon as you want.

Remember, your intention is to have a great session! Once you have made a decision to have a QHHT session, your Higher Self starts preparing and getting ready to have a wonderful conversation with you. Your conscious self needs to be reminded to take a back seat to this experience.

On the days before your session, start repeating to yourself several times a day that you connect to your Higher Self easily. Note: Not that you will but that you do …….

Wear comfortable clothes, you will be laying down for part of our  time together. I will provide blankets and pillows ( You may want to bring your own pillow if you like, but I have pillows here as well.)

Come with an open mind!  
**If you are looking to become a QHHT Practitioner enter code 'themagicisreal' to save 10% on your in person or online level one course. https://www.qhhtofficial.com/upcoming-courses

Tracie Mahan, CHt