Online workshop by Tracie Mahan
Beautiful Abundant Life
In this workshop, Arcturian Daniel will takes you on a journey to shed old behaviors, belief systems and frequencies that no longer match your abundant life desires. You will be guided through a life you spent on this earth, or on another planet, where you lived an abundant life. Where you knew your value and worthiness and your desires were met and fulfilled.  There will be downloads of new energy and activations, to bring in a shift in your current life, so you can step into a vibrational match to the outcomes and manifestations of your joyful life in this current reality.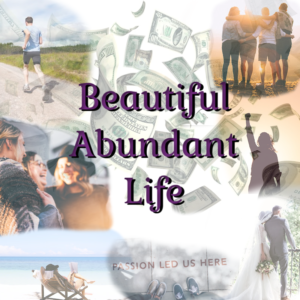 $55
____________________________________________________
Awakening From the Matrix!
This is a powerful hour with Arcturian Daniel, as you move through the illusions that are your perceived realities, and wake up into new possibilities. How to take your control back, and experience a life of your own creation on your terms.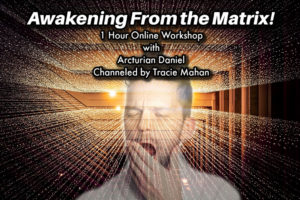 $25
___________________________________________________
Galactic and Dimensional Journeys
In this workshop, Tracie channels in Arcturian Daniel, as well as others, for a wonderful 2 hour journey through dimensions, time and other galaxies. This is a time for downloads,
activations
and transformations.
It is an incredible adventure you learn more about the expansive part of you, and finding new perspectives in life.
While on this Journey you will talk to councils as well as hearing from 3 Galactic teachers, who speak to you about your purpose, your gifts and help you step more into your truth.
May you enjoy the journey, and find your way to the deeper parts of who you are.

$44
Here is a testimonial from Judy, who participated in the live workshop.
"The Galactic and Dimensional Journeys workshop was very powerful and jam packed with so many different components!
I personally experienced so much!
A shifting of perspective on the components that make up Earth, fun in the Dragon Realm, travels to a water world, meeting with Galactic Councils, activating crystals and the grid, and so much more!!!
What an amazing experience!!
Tracie is highly skilled in this work and I thoroughly recommend this and all her other workshops."
____________________________________________________
Soul Repair Series
5 workshops for a reduced price!
This series will take you on journeys to self love and soul repair. It is a healing and self empowering series.
Each journey is unique and powerful. Every time you listen you will get something new from it. The downloads and activations in these workshops are timeless, and activating in new ways each time you listen. They meet you where you are at. If change and soul growth are what you are looking for, this series will move you right where you need to be.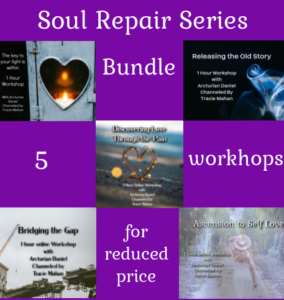 $100
___________________________________________________________
Ascension to Self Love
Welcome to Ascension to Self Love. This is the 5th and final Workshop in the Soul Repair Series. However you do not have to attend all the workshops in this series, or do them in any certain order.
In this workshop, Arcturian Daniel, Channeled by Tracie Mahan, will be guiding you to self love and acceptance. This is a time for the planet, and all who are on it, to heal the old wounds and find self love. Arcturian Daniel, and all of Tracie's Benevolent guides are here to aid and assist in the best way they can, to help human kind reach a greater state of love, compassion and understanding of self and humanity.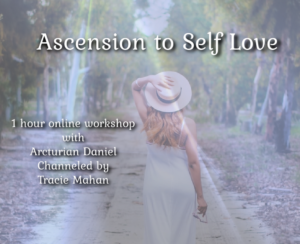 $25
___________________________________________________________
Bridging the Gap
In this workshop Tracie will channel Arcturian Daniel to bridge the gap between you and source, as well as the oneness consciousness that is available to you at this time.
This workshop is the 4th in the soul repair series, however you do not have to attend all the workshops in this series, or do them in any certain order.
$25
___________________________________________________________
Discovering Love Through the Pain
In this workshop Daniel will bring you through a transition from pain to love. Daniel will bring you to understanding the reason for the pain as well as facilitating an activation into the next level of your gifts and self love.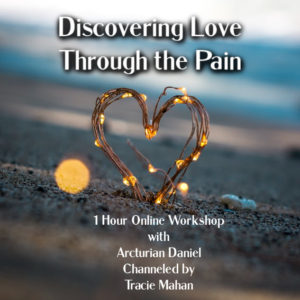 $25
__________________________________________________________
Releasing the Old Story
This is a transformational workshop that will be targeting the deeper stories within your subconscious mind and your inner responses to the world around you. This workshop will be moving you into a new way of looking at life, love, how you see yourself and the world you live in.
As you step into a new version of you, the rest of the world will have no choice but to respond to the way you are showing up in your truest form and best self.
It is time for the new story to support you and bring you to your dreams.
$25
—————————————————————————————————–
The Key to your light is within.
This workshop is the beginning of a soul repair series.
As I was meditating on this workshop I was told that it is a series to prepare us for the next level of information and activations that will be coming in.
To set our energies so they are receptive to the next influx of waves and downloads.
It is important for us to step into loving ourselves and knowing we are all worthy of great things.
When you purchase this workshop you will initiate the onset of your journey to soul repair and self love. You will be telling the Universe, your guides and your higher self that you are ready for what comes next.
It is a very exciting time ahead.
$25
—————————————————————————————–
Bundle and Save!!

This is a transformational set of journeys that will move you out of an old way of thinking/being, into a new and expansive reality.
$99
Savings of $33.
———————————————————————————————
Soul Transcendence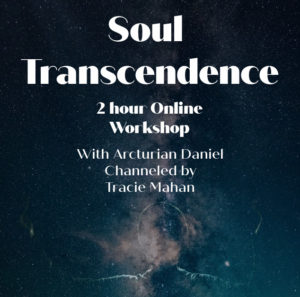 This workshop will be surpassing the usual limits. Beyond the range of usual perception, as Daniel transcends you beyond what you perceive to be real.
$44
———————————————————————————————
Braiding the Threads of the Universe Audio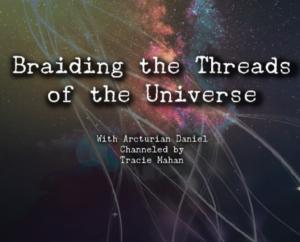 In this workshop "Braiding the Threads of the Universe", Tracie Mahan will Channel in Daniel and Friends to bring you on a journey of the Universe. Finding the threads of the Universe that are your energetic match, and moving that to work in your favor in the physical reality of the human experience.
Testimonial
**Today I participated in Tracie Mahan's " Braiding the Threads of the Universe", and, as with her other workshops, it was amazing!!  Each workshop has become more and more powerful in the experience and this was a very expansive and mind stretching journey.
The feelings, the images, the knowledge, the connections, the knowingness of all that transpires during this 2 hour period is difficult to express with words, but the larger part of me was further aligned and integrated with what we truly are!!!
Regardless of whether the workshops are experienced live or later, the results are profound!!!
Tracie facilitates masterfully and each workshop will open up areas to you that go way beyond anything you could contemplate.
Thank you Tracie, Daniel and the others who create these wondrous journeys!!! ~JC
———————————————————————————————
Soul Emergence Workshop
Arcturian Daniel, channeled in by Tracie Mahan, will be taking you on a guided journey to emerging your soul and unlocking it's potential. Working through the blocks and obstacles that need to be moved for the next level of your evolution to come in.
This workshop is meant to be expansive, healing and activating on many levels.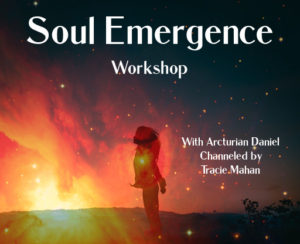 $44
———————————————————————————————
Online Classes and Workshops
By Tracie Mahan and Valerie Camozzi
Bundle and Save on 3 workshops
Take your mind on a vacation while you journey into alternate realities, move through the cosmos and activate your chakras and DNA. This bundle offers you all three galactic workshops offered by Valerie Camozzi and Tracie Mahan. Enjoy the journey of all three Cosmic adventures for a reduced price. Limited time offer.
$99
———————————————————————————————

Activation Highway Workshop
You will relax in a sacred space while aligning your chakras. Experience a cosmic DNA activation and take a journey to meet your Galactic friends and guides. Don't miss this incredible workshop.
$44
———————————————————————————————

Journey through the Cosmos using light frequencies.
Experience your Merkaba where you are one with light particles and immerse yourself through activations of oneness and create what you want to bring into your life now.
Once you've moved through the cosmos, activations ensue as you experience many levels of the Galactic light codes, further expanding your DNA. These codes are activated within and unique to you.
Next meet the 'Arcturians' and the 'Many' as spoken through Tracie Mahan and Valerie Camozzi. Receive information relevant to your journey.
$44
———————————————————————————————
Journey into Alternate Realities
First you will go on an amazing meditation to activate your senses, through the great work of Valerie Camozzi. As Valerie takes you deep into your subconscious, you will journey to magical places and experience the world on a whole different level.
Then in the second half of your journey you will enter into Realm Jumping with Tracie Mahan. Taking all that you have gathered with activating your senses, and applying them again in the realms of other worlds, and parallel realities.
These journeys are designed to bring in your higher connections and activation with self, life and the cosmos.
$44