Online workshop by Tracie Mahan
Braiding the Threads of the Universe Audio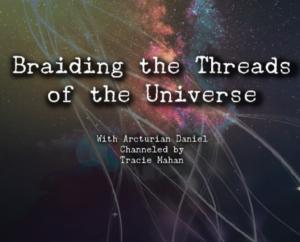 In this workshop "Braiding the Threads of the Universe", Tracie Mahan will Channel in Daniel and Friends to bring you on a journey of the Universe. Finding the threads of the Universe that are your energetic match, and moving that to work in your favor in the physical reality of the human experience.
Testimonial
**Today I participated in Tracie Mahan's " Braiding the Threads of the Univers", and, as with her other workshops, it was amazing!!  Each workshop has become more and more powerful in the experience and this was a very expansive and mind stretching journey.
The feelings, the images, the knowledge, the connections, the knowingness of all that transpires during this 2 hour period is difficult to express with words, but the larger part of me was further aligned and integrated with what we truly are!!!
Regardless of whether the workshops are experienced live or later, the results are profound!!!
Tracie facilitates masterfully and each workshop will open up areas to you that go way beyond anything you could contemplate.
Thank you Tracie, Daniel and the others who create these wondrous journeys!!! ~JC
___________________________________________________________________
Soul Emergence Workshop
Arcturian Daniel, channeled in by Tracie Mahan, will be taking you on a guided journey to emerging your soul and unlocking it's potential. Working through the blocks and obstacles that need to be moved for the next level of your evolution to come in.
This workshop is meant to be expansive, healing and activating on many levels.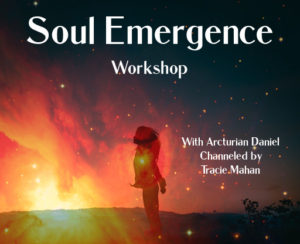 $44
—————————————————————————-
Online Classes and Workshops
By Tracie Mahan and Valerie Camozzi
Bundle and Save on 3 workshops
Take your mind on a vacation while you journey into alternate realities, move through the cosmos and activate your chakras and DNA. This bundle offers you all three galactic workshops offered by Valerie Camozzi and Tracie Mahan. Enjoy the journey of all three Cosmic adventures for a reduced price. Limited time offer.
$99
_______________________________________________________________

Activation Highway Workshop
You will relax in a sacred space while aligning your chakras. Experience a cosmic DNA activation and take a journey to meet your Galactic friends and guides. Don't miss this incredible workshop.
$44
_______________________________________________________________

Journey through the Cosmos using light frequencies.
Experience your Merkaba where you are one with light particles and immerse yourself through activations of oneness and create what you want to bring into your life now.
Once you've moved through the cosmos, activations ensue as you experience many levels of the Galactic light codes, further expanding your DNA. These codes are activated within and unique to you.
Next meet the 'Arcturians' and the 'Many' as spoken through Tracie Mahan and Valerie Camozzi. Receive information relevant to your journey.
$44
_______________________________________________________________
Journey into Alternate Realities
First you will go on an amazing meditation to activate your senses, through the great work of Valerie Camozzi. As Valerie takes you deep into your subconscious, you will journey to magical places and experience the world on a whole different level.
Then in the second half of your journey you will enter into Realm Jumping with Tracie Mahan. Taking all that you have gathered with activating your senses, and applying them again in the realms of other worlds, and parallel realities.
These journeys are designed to bring in your higher connections and activation with self, life and the cosmos.
$44